REALLY Spring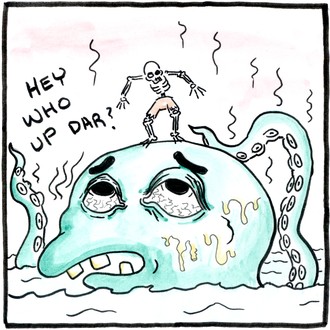 I did another corpsey comic.
Spring has Really arrived
The Flowers, birds and squirrels are coming back. I'm happy.
Things seem to be sprouting and growing inside of my soul as well. I'm continue to draw almost daily, although I've mostly successfully avoided working on SkullyFower #4. I am however signed up for a summer workshop at CCS in Vermont that should help me get refocussed and through that comic. It's this: CARTOONING STUDIO Session II: July 27-31, 2015 if anyone wants to go and work on their own stuff with me.
Also, May 2, 2015, I'll be doing free comic book day at the local Library, Monroe Branch Library | 809 Monroe Ave | Rochester, NY 14607. I'll be handing out books and am trying to cook up a presentation / workshop for those interested in making their own comics.
I'm working to stop being so down on myself and spend the energy instead doing the things I hate that I don't do. Know what I mean? So far so good, but with this sort of thing, it's the long haul that counts. Old habits are hard to break.